CHESSENTIALS - Vjekoslav Nemec's Chess Blog
WHO ARE YOU AND WHAT DO YOU KNOW ABOUT CHESS?
My name is Vjekoslav Nemec and i am a candidate master from Croatia. My current rating is 2175 Fide Elo.
Once in a while I manage to play a decent game. And beat someone much higher rated. But more often than not I do something described in the beginning of this post... or this...
Which implies I don't know that much at all. Which brings us to the following question...
WHY HAVE YOU DECIDED TO WRITE ABOUT SOMETHING YOU DON'T KNOW "THAT MUCH AT ALL"?
Because I love it. I really love chess and everything involved around chess, whether it is playing, reading or following top level games. And someone somewhere has once remarked that you should always pursue things you love. Which seemed like a really convenient excuse to start playing a chess author. Instead of dealing with ugly terms like adulthood or responsibility.
"Chess, like love, like music, has the ability to make people happy" - Saviely Tartakower
Apart from chess, I enjoy playing table tennis, making bad puns (which should be apparent from the blog name), following stand up comedy (apart from Rowan Atkinson, Dave Allen is the favourite) and posing for facebook. The last one especially escalated in last couple of years, so it is inevitable that I include one such photo here in the about section.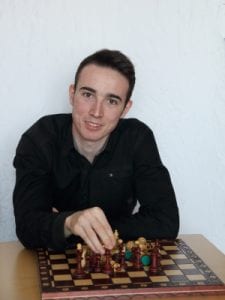 I hope you will enjoy your time around. If you are up for playing a game, I am usually regular around chesscom.
WHAT CAN I DO AROUND HERE?
I have tried to create something for everyone on this blog. Which probably means I have created nothing for noone... Erm.. Nothing for everyone?...Erm.. Nothing?..
Anyway... some of the content on this blog includes:
CHESS EVENT COVERAGE
Reports and game analysis with commentary of the relevant games player in the top tournaments around of the  world. So far we have covered:
DAILY TACTICAL EXCERCISE
Since solving tactics is a must for every serious chess player, we post daily chess tactical puzzles taken from various sources. The list of currently available puzzles together with their solutions is available at the following link:
WEEKLY CHESS STUDIES
For those who like a real challenge, or simply love chess composition, we post weekly chess studies taken from various sources.
I have to admit that prior to starting this blog I was pretty ignorant toward chess composition. But during the investigation for some of the posts, I have realized how much I have missed by neglecting the studies alltogether. Make sure to check Mitrofanov's brilliant Qg5!! study that first changed my mind.
The list of currently available studies together with their solutions is available at the following link:
CHESS FOR BEGINNERS
If you are new(er) to chess, then perhaps this is the right place for you. In the chess for beginners posts, we cover topics such as:
And more...
CHESSENTIALS FEATURED SUNDAYS
In the "What was I thinking" columns we invite everyone to send their games in which they have had such a moment during the game.
The games will be analyzed by the dynamic Houdini - Nemec duo and posted with commentary on the blog. So you can share your shame with the world.
ARTICLES ON VARIOUS CHESS TOPICS
Basically articles about anything related to chess that comes across my mind that I find interesting.
For instance:
And more..
CHESS BOOKS COMPILATIONS AND REVIEWS
One thing I have noticed is that young players in Croatia don't have the tendency to read chess books regularly.
And although it is true that in computer age it is perfectly possible to obtain higher chess mastery without knowing the classics, it really felt sad when a colleague FM player asked me something like "What is this Brüur Variation" when referring to the Breyer Variation of the Ruy Lopez.
Therefore, I have decided that this blog should have a section about books. A section that includes:
IS THAT ALL?
Of course not, have I mentioned how much I like posing already?