Participants and regulations
The 48th Croatian Chess Championship took place between April the 24th and May the 5th in 2017.
The tournament was held in the hotel Villa Valpovo, in the small Slavonian city of Valpovo which has 11563 inhabitants (according to the last population census from 2011).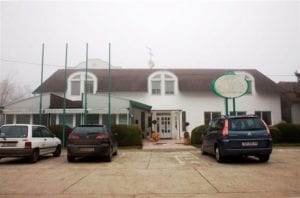 The tournament was a single round-robin, with the tempo of play being 90 minutes + 30 seconds per move + additional 30 minutes and 30 seconds per move after the 40th move.
A total of 12 players gained the right to participate in this elite event of the Croatian chess. The players are as follows: (all photos were shot at the event and are taken from the official website of the Croatian Chess Federation)
1. GM Zdenko Kožul
2. GM Ante Brkić
3. GM Ivan Šarić
4. GM Zoran Jovanović
5. GM Mladen Palac
6. GM Ognjen Jovanić
7. GM Saša Martinović
8. GM Hrvoje Stević
9. GM Marin Bosiočić
10. GM Ante Šarić
11. GM Robert Zelčić
12. IM Blažimir Kovačević
This has been definitely the most interesting and entertaining Croatian Chess Championship ever since I started playing chess and following chess events (some 5 years ago).
After 11 gruelling rounds, GM Marin Bosiočić was crowned the new Croatian Champion.
We will examine his tournament path, the key games and moments and other tournament intricacies in this highlight overview.
Quick draws
The main and most obvious difference between this year's Championship and the previous editions is the fact that this year participants displayed extraordinary fighting chess.
Quick draws have always been the greatest problem of the closed Croatian Championships. For some players, the reason for their participation was not to play and win, but rather to play and not to lose.
Additionally, some players have known each other for quite a long time and developed friendly relations. Therefore the result of their games could have been predicted with adequate accuracy even before the game.
For instance, consider the following statistical evidence, showing the median draw move of certain participants (taken from chess-db.com):
The Croatian Championship isn't regulated by the famous Sofia Rules (which can forbid the players of agreeing to a draw altogether or before a certain move).
Therefore, certain editions of the Croatian Championship witnessed dismal win-to-draw ratio. For instance, the 2014 Croatian Championship resulted in less than 30 % of decisive games (for comparison, 2015 year edition of Tata Steel tournament had more than 50 % of decisive games).
Naturally, this year there were some quick draws as well. The leader was definitely the aforementioned Mladen Palac, who agreed to a draw before move 15 in five games (although he was Black in four of those).
An example game is his 5th round encounter with GM Zdenko Kozul:
This year, however, such games proved to be an exception rather than a rule.
In Croatian Chess Championship 2017, 30/66 games, or 45.45 % ended with a decisive result.
I am not 100 % certain what caused this statistical anomaly, but to be completely honest, I don't really mind.
Blunders
Since many games in this Championship were hardly fought, this year's Championship saw many shocking blunders and mistakes.
This isn't surprising since extreme tension combined with fatigue and tiredness has produced big blunders throughout the whole chess history.
Mistakes such as those presented below are one of the main reasons why I enjoy chess kibitzing and why I think this Championship was fantastic.
Blunder nr. 1 - Ante Šarić
Blunder nr. 2
Blunder nr. 3
Blunder nr. 4
Blunder nr. 5
Pawn endgames can be really hard sometimes.
Blunder nr. 6
Opening preparation
To be fair it wasn't only blunders and luck in the Croatian Chess Championship 2017.
There was a number of fascinating encounters, but also a few instances of a brilliant opening preparation.
I have singled out two particular games in which GM Ivan Saric encountered problems after the opening.
In the first of his games, GM Robert Zelčić managed to dig deeper in his preparation and reach a very favourable position.
Unfortunately for him, he wasn't able to keep his momentum, and in the complicated middle game struggle, Saric managed to turn the game into his favour:
Although Saric survived this one, in his game against GM Sasa Martinovic he wasn't that lucky. The latter found a brilliant sacrifice in the Steinitz French and won with Black (!) in 25 moves (!!).
I actually contacted Sasa to hear his thoughts about the game, and he was very elaborate in his answer and his comments. I would like to express big gratitude to him for investing time and sharing his thoughts and variations for the purpose of this article.
Apart from being tremendously strong at chess, he is also a very nice guy!
The game with  analysis and Sasa's comments is given below:
Key games/drama
This year's edition of Croatian Chess Championship turned out to be a very close race.
The new champion was decided only in the last round and throughout the tournament, there were many dramatic games which had a decisive effect on the final outcome.
The first critical game was the 7th round encounter between GM Marin Bosiočić and GM Ivan Šarić.
After the first six rounds, Bosiočić, after a couple of wins and a lucky escape against Palac mentioned above, was leading with 5.5/6 (!!).
Šarić, always a contender for the throne, won 4 games and only suffered a painful defeat against GM Martinović that was described above. Thus, he was trailing with 4.5/6 and very much needed a victory in order to keep his chances for the title alive.
After this game, I thought that the Saric will be able to build on his success and win the title.
Apparently, the oldest participant and the defending champion GM Zdenko Kožul thought otherwise and went on to defeat Saric with the Black pieces in the very next round:
This was the only decisive game of round 8 and the situation became slightly more complicated.
In the very next round, another +2600 grandmaster, Hrvoje Stević, joined the fun. Stević, a very solid grandmaster and an excellent technician, has been steadily making draws and winning here and there, and just before the 9th round, he was on 5/8. Bosiočić had 6, and Šarić 5.5 points.
Thus, Stevic eliminated Saric out of contention for the title moved to nr.2 position, just behind Bosiocic.
After both players drew in round 10, it became clear that everything will depend on their last round game.
And what a grandiose battle it was:
Thus, the ancient chess quote, stating that " The hardest thing in chess is winning a won game" once again proved valid.
Congratulations to Marin Bosiočić on his first title of Croatian National Champion.