PARTICIPANTS AND REGULATIONS
The 49th edition of the Croatian Individual Chess Championship was held between April the 17th and April the 27th, 2018, in Grgin Dol hotel in Požega in Croatia.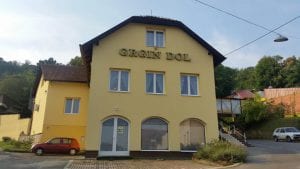 Croatian Individual Championship is a traditional single round-robin tournament. The time control is 90 minutes + 30 seconds for 40 moves with additional 30 moves gained on move 41.
Every year, 12 best Croatian chess player participate. The players are selected on the basis of the following criteria:
GM Bosiočić, Marin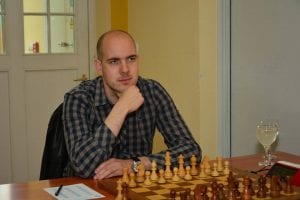 GM Stević, Hrvoje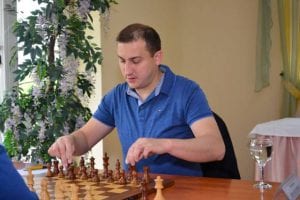 GM Šarić, Ivan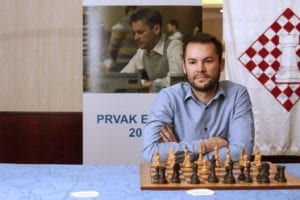 GM Martinović, Saša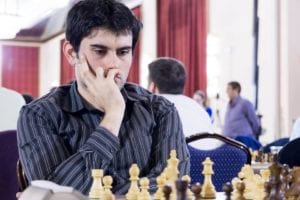 Four players who qualified via four qualifying tournaments:
GM Ferčec, Nenad (The highest placed Croatian player of Pula Open 2017)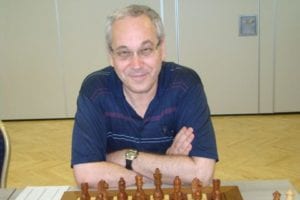 GM Brkić, Ante (The highest placed Croatian player of Zadar Open 2017; finished behind Martinović who already qualified)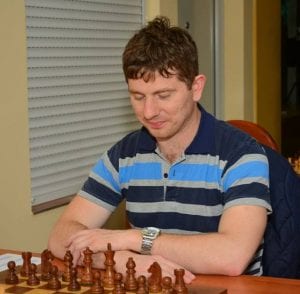 GM Kovačević, Blažimir (The highest placed Croatian player of Zagreb Open 2017, finished behind Martinović who already qualified)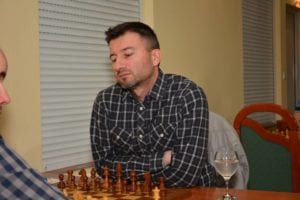 GM Šarić, Ante (The highest placed Croatian player of Split Open 2017, finished behind Martinović who already qualified)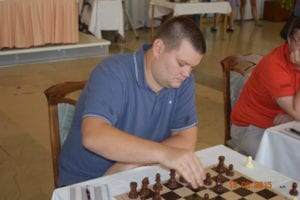 (Strong guy, that Martinović is)
Four players with the highest average rating in the period between October and December, 2017:
GM Jovanović, Zoran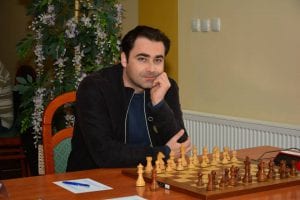 GM Kožul, Zdenko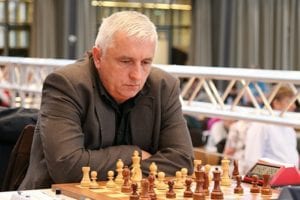 GM Palac, Mladen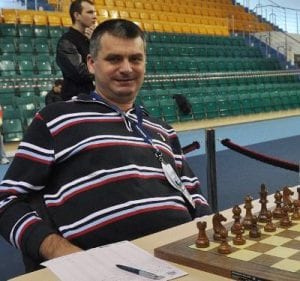 GM Kuljašević, Davorin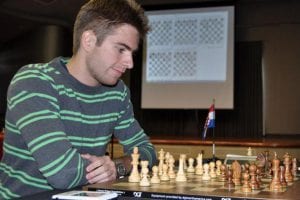 (Photos are taken from the official website of the Croatian Chess Federation and other sources. Photos are not necessarily from this year's edition of the Championship )
Due to Ivan Šarić's recent victory at the European Chess Championship 2018 and the fact he is almost 100 points higher rated than the average participant of the Croatian Championship, everything but his convincing victory at this year's edition would have been a huge surprise.
However, to an extent, that was true for many Croatian Chess Championships in the past years. Yet, these guys know each other so well, the difference in the playing strengths is much more relative than in other tournaments.
Thus, unexpected results often happen and it is often very hard to predict the final table. For instance, Marin Bosiočić, the defending champion, arrived slightly out of form and only finished in the 8th place. Saša Martinović, the 4th place winner of the previous edition, who enjoyed a marvellous 2017 year, also played far from his best and finished one place behind Bosiočić.
(It is understandable, though. The guy married recently and graduated shortly after the tournament.)
Thus, it was very interesting to follow the tournament. In the end, Ivan Šarić did manage to defend his title, but it was everything but an easy ride.
We will examine his tournament path, together with other interesting moments, big blunders and wonderful games, in this highligh overview.
QUICK DRAWS
Perhaps some of you might remember how I was positively surprised with the relative lack of quick draws in the 2017 edition of the Croatian Chess Championship.
Unfortunately, this year's edition was much more abundant with the games that finished even before they started.
Quick draws have always been one of the main characteristics of the closed Croatian Chess Championships. The facts these players know each other very well, that most of them are close friends off-the-board and that there aren't any rules forcing them to play, all contribute to the lack of fighting spirit.
I personally think it is a shame. These guys are the very best of the best Croatia has to offer and only once a year we, chess fans, get the opportunity to watch them play. It is a great opportunity to enjoy sam high quality chess and learn from our top grandmasters.
A very high number of non-games makes this event less exciting.  As an example, let us take a look at the most notable examples.
A 17-move draw in the Ruy Lopez position where the play is only beginning.
A 18-move draw in a position where there is a number pieces of the board still left.
A 10-move draw speaks for itself.
A 17-move draw in the Caro-Kan tabiya every schoolboy knows how to reach.
The new record. A 9-move draw.
Even the future champion Ivan Šarić is not immune (although his draw at least has some sense from the competetive point of view).
Yet another one.
And another one.
BRILLIANCIES
If we disregard the quick draws, when the player DO choose to fight, it usually leads to very interesting and entertaining games.
This year was not an exception. Apart from the games extremely important for the tournament standings, which will be covered later in the article, there was a number of quite a brilliant games in the championships.
They weren't always played between players who did excellently in the tournament. But they were extremely fighting, interesting and beautiful to watch.
Brilliancy nr. 1: Bosiočić - Stević, round 4
Those of you who read the previous Championship's report might remember that the last round clash between these two players determined the fate of the champion. In that game, Stević missed a huge chance and allowed Bosiočić to escape with a draw and to become the 2017 Croatian Chess Champion.
You also might recall Stević got a very convincing revenge in the Croatian Chess Cup Final 2017 and that he is a very difficult opponent for Bos. Especially since, this year, Bos was far from his best form.
This game merely confirmed this assumption. It turned out to be another memorable win in the rich chess biography of Hrvoje Stević.
Brilliancy nr. 2: Kuljašević - Bosiočić, round 8
As already mentioned, Bosiočić was far from his best form. However, in at least one game he managed to display his best qualities - in the round 8 encounter against GM Davorin Kuljašević.
Brilliancy nr. 3: Kožul - Martinović, round 10
Similarly like Bosiočić, Martinović didn't quite have the best tournament ever. However, his game against GM Zdenko Kožul will surely appear in the collection of his best games, if one ever appears.
What a crush with the Black pieces.
Brilliancry nr. 4: Palac - Šarić, round 10
To my mind, the most interesting and exciting game from the tournament. It was also one of those games that helped Šarić win the title. In this one, he was thoroughly outplayed, but with the help of some tenacious defence and his opponent, he managed to salvage a very important draw with the Black pieces.
Nevertheless, despite the peaceful outcome, this game was anything but peaceful.
Take a look at the analysis and judge for yourselves.
BLUNDERS
On the other side of the spectrum, apart from the flashing attacks and brilliant games mentioned above, there was a number of crude mistakes in this year's Champinonships.
Naturally, when the stakes are high, when the heavyweights are exchanging blows on a daily basis, mistakes are bound to happen.
True, they weren't as tragic as some of the previous' edition mistakes (to mentioned nothing about  greatest chess blunders every played). Still, the consquences were just as grave - in a perfectly fine (or even superior) position, one side often made a move that virtually lost the game.
Blunder nr.1 - Brkić Ante
Blunder nr.2 - Martinović Saša 
Blunder nr.3 - Nenad Ferčec
Blunder nr.4 - Ante Brkić
Blunder nr. 5 - Blažimir Kovačević and Mladen Palac
Blunder nr. 6 - Blažimir Kovačević
TOURNAMENT COURSE
Initially, the tournament itself took an expected course. Ivan Šarić continued his excellent form from the European Chess Championship 2018 and started with 3.5/4. The 2nd round win against the guy with the same surname, Ante, is quite typical.
However, in the 5th round something incredible happened. Šarić was stopped by the 2nd lowest rated opponent in the competition (although incredibly strong International Master) Blažimir Kovačević, in what was probably the worst game of his life:
This game presented the remainder of the field with a golden opportunity to compete with the leader and to try to catch him. Two players in particular showed good form and consistency -  Zoran Jovanović and Hrvoje Stević.
The play of the former was particularly impressive. Take a look at his "effortless" victory against Mladen Palac. It all looks so simple and logical. Amazing stuff.
After 6 rounds, Šarić was leading with 4/6, with Jovanović and Stević trailing half a point behind. Then, in the 7th round, Jovanović beat GM Saša Martinović with the Black pieces in a wild game (in which Saša blundered a piece early but than almost extricated himself), while Ivan faced the reigning champion and showed him who da real Bos is.
(I will show myself out).
Starting from the 7th round, the tournament developed into a fierce race between Šarić and Jovanović that would be only resolved in the last round.
(Stević slowed down, drawing a number of games, some of them rather quickly - they are given above)
In the eight round, Šarić drew, while Jovanović won once again. Thus, before the clash of the leaders in the ninth round, they were level with 5.5/8. Their clash turned out to be one of the crucial games of the entire tournament.
After managing to survive this, Ivan Šarić then barely survived against Palac in the 10th round (we analyzed that game earlier in this post in the brilliancies part, if you have forgotten). Jovanović, on the other hand, drew rather quickly. Thus, with both players standing at 6.5/10, it was clear the last round was to decide everything.
The pairings of the last round clearly favoured Ivan, as he was to play as White against the lowest rated player in the event, Nenad Ferčec. Jovanović, on the other hand, had to play for a win with the Black pieces against an almost 2600 player, Ante Brkić.
Unfortunately for Zoran, the combination of his risky play and inspired movement of the pieces by Ante resulted in a devastating loss:
Ivan, on the other hand, "got down to business" and, not without some luck, managed to win "to order".
Which was definitely not an easy task:
Therefore, the European Champion and the highest rated player managed to deserved victory and win his third title of the Croatian Chess Champion (first two titles came in 2009 and 2013, respectively).
Congratulations to Ivan Šarić, but also to Zoran Jovanović and Hrvoje Stević, on a great performance!