FAMOUS CHESS GAMES
There are many reasons why Ludwig van Beethoven is famous all around the world. I could probably write numerous words about his sonatas, about his numerous experiments that were well ahead of his time, about how he wrote majority of his opus while being deaf (!!).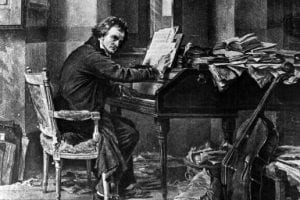 However since it would all more or less come down to: I-think-this-is-so-beautiful kind of sentences because my understanding of the intricacies of classical music is pretty much on the same level of my understanding of the rook and pawn endgames.
NONEXISTENT. 
Why on Earth did I start all the discussion about the Beethoven in the first place then?
Because Beethoven's compositions are first to have the so called programmatic character. Which basically means that someone has named his sonata Opus 27 Number 2 the Moonlight sonata instead. Which makes the composition much more easier to recognize.
It really is a wonderful sonata btw.
And if you are still wondering whether you have visited a classical music blog, don't despair as I am pretty close to finishing my point.
Because similarly as other people have recognized Beethoven's greatness and named his most notable compositions, throughout the history very beautiful chess games have also often been named by one author or another, in order to stand out from the mass.
It has to be said that chess public has been much less imaginative, since the majority of the games features the word IMMORTAL in their name. A word so suitable for a metal bend, that I went on to google "Immortal metal band" and found this:
In today's post, we will give 10 notable games from the chess history, together with their nicknames, which we believe every chessplayer should know.
Some of the games were featured in a previous post, but we believe in the Latin sayin, "Repetio est mater studiorum."
Naturally, the list might have been much longer than that, but today we have preferred to remain a bit on the "safe side", and our choice might have been labeled mainstream.
Every game is given by only a brief commentary, as the point is not to search for the truth, but simply enjoy the brilliancies.
1. HOFFMAN - PETROV, WARSAW 1944 - "PETROV'S IMMORTAL"
2. ANDERSSEN - KIESERITZKY, LONDON 1851 - "THE IMMORTAL GAME"
You know how good a game is when the name is not "Anderssen's immortal", but simply "immortal".
3. ANDERSSEN - DUFRESNE, BERLIN, 1852 - "THE EVERGREEN"
Anderssen is the only lucker to have two of his games included here. It is amusing that in both games, he mates with the bishop on e7.
4. MORPHY - CONSULTANTS, PARIS, 1858 - " THE OPERA GAME "
Famous game played in the theatre, which suggests that the opera they were attending was surely exceptionaly interesting.
5. ROTLEWI - RUBINSTEIN, LODZ, 1907 - " RUBINSTEIN'S IMMORTAL "
One of the most famous classics out there! Just watch those bishops!
6. BOGOLJUBOW - ALEKHINE, HASTINGS, 1922 - "ALEKHINE'S IMMORTAL"
My favourite game of the master of sacrifices, Alexander Alekhine.
7. GLUCKSBERG - NAJDORF, WARSAW, 1929 - " THE POLISH IMMORTAL"
It is a slight mystery why this game is not known as Najdorf's immortal. Especially since he moved to Argentine and spend the majority of his life there afterwards.
But never mind the name, just look at those pawn "spikes" that happened in the game.
8. BYRNE - FISCHER, NEW YORK, 1956 - " THE GAME OF THE CENTURY"
Virtually the most famous game of the last century. Fischer was only (13 year old at a time).
Which reminds me of an anegdote about the famous piano player Moriz Rosenthal .
When introduced to a 7-year old Russian wunderkid, he asked him what is he currently playing?
" Tschaikovsky's first concerto, mister"
"Aren't you too old for that?" 
9. KASPAROV - TOPALOV, WIJK AAN ZEE, 1999 - " KASPAROV'S IMMORTAL"
The best of the chess GOAT. The sacrifice of two rooks and a twelve move combination culminating with Bf1 in one game. Nobody really cares that it wasn't fully correct.
10. WEI YI - BRUZON, DANZHOU, 2015 - " 21.ST CENTURY IMMORTAL"
In order not to neglect the modern grandmasters, we have decided to include this brilliancy by a young Chinese prodigy, Wei Yi. The creativity behind explosive sacrifices connected with quiet Queen moves createst unique artistic impression.