Leon Livaić is the youngest International Master in the history of Croatian Chess and one of the greatest hopes of Croatian Chess - a former European and World Rapid Champion and European Blitz Youth Bronze Medalist. We took an opportunity to chat with Leon about his beginning, his career so far and his future plans and expectations.
Hi Leon. Let's start with the most boring and most typical chess question. When did you start playing chess?
Hey. I played my first tournament when I was 6, but I knew how to move pieces when I was 3.
How did it happen? Who introduced you to the game?
My parents, mostly my father who is a chess player himself.
Can you tell us a bit about your next chess steps? Did you join the club after you started beating your father, as customary, or is there another story?
Well, I don't exactly remember when I joined a club, but I started taking chess lessons when I was 6. Of course, with many other boys and girls, but most of them are not playing anymore.
Who were your trainers? It is well known that FM Danko Gazarek's hand had a major influence on your development. Were there others?
FM Gazarek helped me a lot with my early chess steps, but when I reached a certain level of play I started to work with GMs Mladen Palac and Goran Dizdar and occasionally with IM Franjo Begovac.
Although you were always considered as a talent, by your own admission, you haven't started seriously working on chess until you were, what, 13 or 14? And it immediately told on your results. How did this change in your attitude happen?
I never considered myself as a talent, but as a hard worker. That's not exactly true, I worked seriously with my coach but not alone. But with 13 or 14 I started thinking about my future and I decided to become a professional chess player.
After this, you reached from 2150 to 2350 ELO in a very short period. In which aspect do you think you particularly improved? Was a gain of confidence an important factor as well?
I think I improved my openings a lot, calculation too. I don't think so, I don't really believe that psychological things have an influence on one's play.
What about today? Is there anything you do differently as a 2450 player? How do you improve further once you have reached this very high level of chess mastery?
There is always room for improvement. You try to find opening novelties, try to understand strategy better, improve your calculation, try to learn different openings and understand different structures.
Which aspect of your game do you think still has the greatest margin for improvement? How do you intend to do so?
Endgames and strategy. My games usually never reach an endgame, so I have less experience in playing endgames than in other things. Studying chess books and especially comments of strong players are nice for understanding strategy. Endgames? You have to take a good book and study them.
I have noticed many young players rely exclusively on chess engines and databases. Are you another member of the "computer generation", or do you grab a good old chess book here and there? Do you have a favourite chess book?
Sometimes it is better to work with an engine, especially on a tournament when you prepare for the games. But when you want to improve it is better to switch your engine off and try to understand things yourself.
Let's talk about your career a bit. Those who know you are aware that due to some health issues, you haven't been as active as you once were for the last half of the year. Would you mind telling us a bit about your gluten intolerance and how you cope during this difficult period?
Well, it all started 7 months ago, I suffered two times something that could be described as a mild case of anaphylactic shock. Once during a game on EYCC. After that, I had to stop eating gluten and stay as far away from it as possible. But that's only a part of the problem, now I also have something called Gastro-oesophageal reflux disease. Long story short, it means that my oesophagus is heavily damaged by acid from my stomach. So this is a difficult period for me and I am slowly losing my mind.
How has it affected your attitude toward chess? How do you deal with the frustration of not being able to compete?
I try to work, but it's difficult. I hope I'll recover soon and live a normal life again. It's been a long time.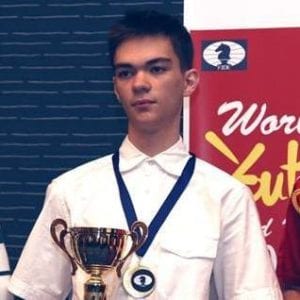 But overall, your career has been extremely successful. European Youth Rapid Champion,  World Youth Rapid Champion, European Youth Blitz bronze medalist, Fourth place in the European Classical Championship. How much do these mean to you? Which one are you most proud of?
Well, none of these mean so much to me, but at least I can brag about being the WC. I am most proud of the 4th place on EYCC because I felt really bad there and every day I was wondering am I going to be alive tomorrow.
You always say you are not particularly good blitz and rapid player, yet you achieved your greatest success precisely on faster time controls. You even have wins against Svidler and Nakamura over the Internet. Is it safe to say you are "not that bad of a blitz player?"
Well, winning those titles included a mass amounts of luck. For instance, in the last round of the World Youth Rapid Championship, I managed to win this position as Black: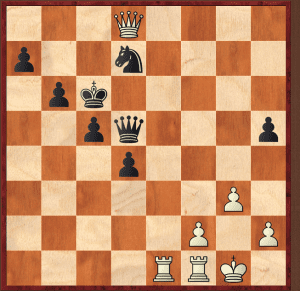 On the other hand, I lost a +5 position in the previous round, so there you have it.
Also, in those tournaments, there were only a few good players. Classical championships are five times stronger. Regarding Internet blitz, it is mostly played with no increment so it's not the same. And yes, I am a bad blitz player, I am always winning in blitz and I always lose.
Do you have a favourite time control?
Yes. Normal 90+30 with 30 min after move 40.
Apart from everything mentioned earlier, you are also the youngest International Master in the history of Croatia. Is it more of a joy, or perhaps a burden; because you want to justify that title with further progress?
I don't think about it at all, it doesn't mean anything to me so it doesn't affect me.
Croatia has another two promising young International Masters, Jadranko Plenča and Sven Tica. Do you consider them as competitors, friends or something between? How would you describe your relationship?
We are both competitors and friends. Well, both of them live in Rijeka and I live in Zagreb so we see each other only on tournaments. Nevertheless, we are good friends.
In general, you are known as a Giver. Multiple persons, including the author of this line, have benefited greatly from sharing a room in a tournament – you never hesitate to share your knowledge of the openings and to help other players. Do you think chess players should retain some secrets for themselves? Did you, for instance, share your analysis with Jadranko and Tica during Youth Team Events?
Of course, they should, and maybe I should stop doing that, but helping others makes me feel like a better person. No, but that's mostly because we play different openings. But we ask each other for an advice sometimes if we are not sure about something.
In general, are you satisfied with the way your career has unfolded so far?What are your plans for the future? Do you have some short term and long term goals? What are they?
No, I am not. I haven't improved my play for a long time and for the past year and more I am not feeling like myself because of all the problems. The way I lived… I wouldn't wish it even to my worst enemy. My plans for the future? Simple.
Feel normal again.
Rebuild my life, if possible.
Become a Grandmaster
Let's talk a bit about chess in Croatia. How would you rate the state of chess in our country compared to some others?
I think some countries like Turkey,  Armenia or Russia invest much more in chess than Croatia.
Do you feel like the Croatian Chess Federation is not doing enough for the development of chess?
I personally think one of the main problems is insufficient funding of the Cadet and Junior chess, clubs and tournaments.
In your opinion, what in particular could the Federation change or do way better to raise the popularity of our game?
An answer to both questions: I have no idea. I am not a politician and I don't want to become one.
What are the approximate expenses of an average Open tournament? Do you cover them all by yourself (or your parents, whom you mentioned as your greatest support on numerous occasions)?
Well, it depends where it is. Usually, it is possible to find a cheap accommodation via booking.com, but trips are often expensive. As World Champion, I get some money from the Croatian Olympic Committee to play in tournaments.
Do you think the federation should invest more in promising youngsters like yourself, Jadranko and Sven?
Maybe, but they started investing last year so we will see what happens this year.
How hard is it to be a chess professional under such circumstances? Is it possible to make a living out of chess in Croatia?
Very hard. I don't think so, you have to be really strong, win prizes in big tournaments and get paid for playing in foreign leagues. You can try to be a coach too, but that's just not my style.
Unfortunately, I hear that the situation is not very different in the neighbourhood as well. For instance, a talented Woman International Master from Montenegro, Tijana Blagojević, changed her federation recently and plays for Serbia today. Have you ever considered making such a radical step?
I haven't thought about it.
In a Forbes interview, Grandmaster Ben Finegold said that Internet era is the golden era of chess.  Today we even see top grandmasters like Peter Svidler doing series on chess24.com or Hikaru Nakamura streaming for chess.com? Do you intend to stick to playing for as long as you can, or are you also attracted to alternative sources of income, like coaching, teaching, broadcasting, creating contents, etc?
I intend to stick to playing because that's what I like the most but if I am going to need extra money, maybe I'll try something else too.
Have you heard of agadmator and his highly successful youtube channel?  What is your opinion on him and other similar youtube channels?
Yes, but I think it is very difficult to create such a popular youtube channel. It takes a lot of work, will and talent to make something out of it.
In the end, let's talk about some off-the-board matters. Do you have some interests/hobbies outside chess? How do you spend your free time?
I don't have a lot of free time, but I like playing table tennis and studying chemistry.
Life of a chess player is pretty boemic. Do you get tired of the constant travels and being away from home?
Why? Touring the world is the fun part of it.
Between school and chess obligations, do you have time for socialization and friends? Do you mostly hang out with the friends from the chess world (whom you see more regularly)?
Not really, I mostly hang out with friends on tournaments, and I actually don't have a lot of friends in Croatia.
And what about the girls? At the top level, a relationship between chess players are not that uncommon (Giri-Sopiko, Aronian – Caolli, to mention a few). Considering the lifestyle and the fact that outsiders consider chess nerdy, it is not that surprising. Do you like female chess players more, or do you prefer 'not to shit where you eat'?
What do you want me to say actually? I follow my heart.
Do you agree that chess players are nerdy? What are their typical shortcomings?
No, I don't. Why would they be? The only thing most of the chess players have in common is – they play chess. I don't see any shortcomings or virtues typical for chess players.
In general, are you satisfied with your life? Do you sometimes miss the "normal" teen stuff,  like going out for a coffee, partying in clubs, watching a movie in the cinema?
Two years ago I was the happiest man in the world. But after everything that happened to me, I sometimes wish to be a "normal teen" with a "normal life". Not often, though.
Finally, is there a message you would like to send to young and aspiring chess players? What is the most important thing for someone looking to improve and taking up chess as a hobby, or even more seriously?
The most important thing is that chess makes them happy. They have to love what they do and only the sky will be their limit.
Okay, thank you very much for answering these questions Leon and participating in this interview. We wish you all the best in the future!
Thank you too.