WESLEY SO'S DOUBLE WIN, CLAIMS GRAND CHESS TOUR AND LONDON CHESS CLASSIC
Wesley So has really had a stellar year. After playing brilliantly in the Sinquefield Cup, he has claimed his 2nd Supertournament in the year, while also winning the prestigious Grand Chess Tour. The final standings are shown on the picture below (taken from chess.com report)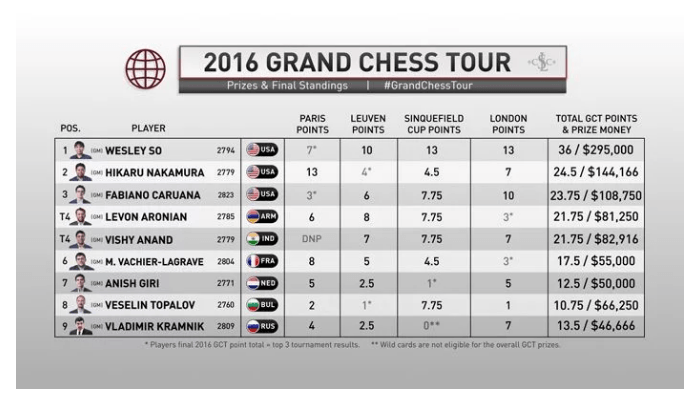 So, the reader inclined toward logical might guess that we will annotate two games.. of the last placed Veselin Topalov. The reasons are multiple.
The most obvious one is that the Topalov is the only one whose games in the last round were DECISIVE.
Furthermore, the fact that he has finally managed to score his only win of the tournament has made me really happy.
And finally, considering that we already analyzed a great deal of his games, it was much easier to continue the trend in this final post on London Chess Classic tournament.
Both games are extremely interesting, and unfortunately, marred  by terrible blunders in equal position. Nevertheless, the dynamics and the quantity of interesting variations and possibilities makes both games well worth studying.
And if you are more interested in congratulating Wesley So and proclaiming him Carlsen's successor, rather check chess.com Round 8 and Round 9 reports.
I can merely quote Anand, who said that Wesley: "Seems to do everything so effortlessly."
Anyway, the game analysis are given below. (Hint: Click on any move and the pop-up board will appear).
ROUND 8, TOPALOV - ANAND
Round 9, Aronian - Topalov