PREFACE
The hero of the Featured Sundays #3 is a young Croatian player and my close personal... acquitance.. mr. Sten Boban.
His style is very prophylactic and he is known as the "Croatian Petrosian", or more often "Croatian Tiger" (the second nickname is used more often by the female population).
Some malicious people that include the author of these lines often compare his style with the football of Mourinho teams.
But naturally, such comparisons are unjust, because already Reti and the other hypermodernists realized the strength of not crossing the 3rd rank with your pawns or pieces prematurely.
Boban is adherent follower of their teaching.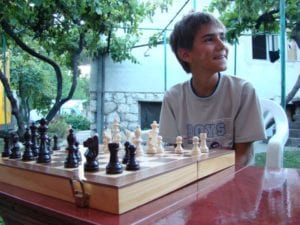 Boban in younger daysIn the game we are going to analyze he battled with a bright Croatian star, IM Livaic Leon, who was "only" FM at a time.
Livaic Leon is very well known as "the most prepared guy in Croatia" and never refuses a lengthy theoretical discussion.
However, in this game Sten displayed some amazing preparation against the complicated Marshall defence and ended up with the better position out of the opening.
A better position that was very hard to play for White, since Livaic quickly grabbed the initiative with some powerful moves.
However, at the critical moment, he failed to find the most dynamic continuation, and Sten, displaying his best chess qualities, defended accurately and equalized comfortably.
Unfortunatelly, immediately after equalizing, two mistakes by Sten followed (naturally, because mistakes always come in pairs).
Mistakes, that left him a piece down after a forced tactical sequence not missed by Livaic.
After the game, Sten probably couldn't avoid asking himself the familiar question "What was I thinking?"
Game analysis
The analysis of this fascinating encounter is given below.