Sven Tica is one of the youngest Croatian International Masters. Together with Plenča Jadranko and Leon Livaić, he is a member of the 'holy trinity' of the Croatian Youth. These three players are well in the 2400s ratings and it will be interesting to see who will be the first to reach the infamous Grandmaster title.
We caught Sven for a chat after his triumphant return from the Croatian Team Juinor Championship, where he scored the fantastic 10.5/11 on the first board. We asked him about his first steps, about his career and about his plans for the future.
Hope you will enjoy it!
FIRST STEPS
Q: Hi Sven. The first question of the interview is always the most boring one. When did you start playing chess?
A: Hey. I played my first tournament when I was 7, but I started moving pieces when I was 4.
Q: How did it happen? Who introduced you to the game?
A: My grandfather and a friend who was a chess player at the time.
Q: Can you tell us a bit about your next chess steps? When did you join the club?
A: I wasn't really attached with chess until our school had it as a non-curricular activity and later I joined the club.
Q: Who were your first trainers?
A: My first trainer was IM Rikard Medančić. When I changed clubs I started working with IM Josip Rukavina, while now I work with GM Ognjen Cvitan and GM Zdenko Kožul.
Q: Do you remember your first tournament game? How did it look like? How were you feeling?
A: Actually, I don't remember it but I assume there was a bunch of bad moves played haha.
Q: Since I have personally started playing chess only when I was 20, I always wondered, how do the trainers develop the love for the game in youngsters? How did you, as a child, overcome the frustration after a loss and cultivated your interest in chess? Was it the parents doing, the trainer's influence, your own attitude, or all these things combined?
A: I would say all of these things matter. If you're surrounded by good people with the positive mentality, you'll get through losses much easier.
CAREER SO FAR
Q: Okay, since I have mentioned good results, you announced your potential already back in 2013. Being rated only 2037, you managed to score your first IM norm and to beat a 2600 rated player, Shariyazdanov Andrey. Can you tell us a bit about this particular game and the tournament?
A: The game turned out to be unexpectedly easy since he made a blunder on move 14. The tournament was actually amazing, not only because of the result but the fact that I felt that I could've beaten everyone…well, apart from GM Marin Bosiočić to whom I lost last round.
Q: For a while, things progressed 'as expected' - in 2015 you were already an FM. Although it has to be said you were helped by the introduction of the 40 coefficient. What is your opinion of this 'novelty' by FIDE? Is it a measure that helps the development of young players? Or it only makes the ratings of the youngsters unrealistic?
A: Most of the times it leads to youngsters having an unrealistic rating there are some talents that you know for sure they'll achieve at least 2300 so for them, the 40 coefficient is a blessing.
Q: In any case, after reaching an FM title, you suffered a severe setback.In the subsequent Youth Championships, you lost almost 150 ELO rating and were basically back to the beginning. How did you endure these hard moments?
A: Apart from my family and friends, I remember some people (including some GMs) contacted me to tell me that I shouldn't quit, that everyone had some bad tournaments and that I should keep going.
Q: I get depressed when I lose 10 ELO rating, let alone 150? Can you describe your feelings and thought process at a time? How did you find the strength to continue playing?
A: It was really tough, but I was also motivated to make a comeback so I can prove that I didn't have ELO 2300 by accident.
Q: It seems that this fighting spirit paid off in the long run. Very recently, in October 2017, you finally did became an International Master after your brilliant result in the Mitropa Cup, where you scored your final norm and gained more than 50 rating points. In general, between August and October 2017, you gained almost 100 rating points and finally breached the magic 2400 barrier. How did this majestic breakthrough finally happen? Did you expect it? How did you feel after these results? Did they motivate you to work on chess even harder?
A: I was expecting to break the 2400 barrier but not by 50 points. That summer I worked almost every day for a couple of hours, trying to improve many aspects of my game and since it's giving results, I'm motivated to work even harder.
Q: At this point in time, what are your plans and ambitions in the future? Do you have some short term and long term goals? Do you intend to go fully professional?
A: My only plan is to play good chess and become a grandmaster. When I do that, then I'll see what does the future hold.
Q: What is your ultimate chess dream? Do you have a (slightly) unrealistic dream you wish to fulfill?
A: It has to be becoming a world champion.
Q: Can you recall when did the possibility of pursuing chess career first enter your mind? Was it after the victory against Shariyazdanov?
A: I think it has to be after the tournament where I beat Shariyazdanov.
Q: What is your parents point of view on chess in general. Do they consider it primarily as a hobby, or do they support you to go make a living out of it? How did they react to all the good results you have been enjoying lately?
A: They're kind of in between, but they're always supportive, no matter the outcome of the tournament.
CHESS TRAINING ROUTINE
Q: Can you tell us a bit about your chess training. I understand you work with a number of strong Grandmasters in Rijeka?
A: Well, actually, there are only 3 GMs in Rijeka (Bosiočić, Cvitan, and Jovanić) but I'm working with GM Ognjen Cvitan.
Q: What do these sessions look like? How do Grandmasters and International Masters approach chess training? What is the emphasis on?
A: We're mainly focusing on the opening theory and some ideas that follow, depends on the opening.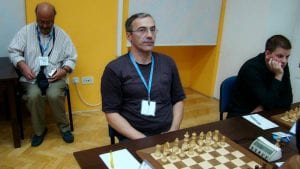 Ognjen Cvitan, Croatian Grandmaster and chess legend. The man behind Tica's results
Q: What do you do differently nowadays compared to the past? Do you work more, do you work smarter (e.g. more systematically), do you work with more focus?
A: Probably I have more passion for chess than used to and I'm definitely more focused during work since work eventually pays off.
Q: What are your main weaknesses as a chess player? How do you plan to eliminate them?
A: I would say endgames since I didn't work on them as much as openings and middle game, but I'll start working on them too.
Q: Us mere mortals are often confused between differences between, say, 2400, 2500 and 2600 player. What separates good chess players from very good ones? What was the main problem you noticed in your battles against Grandmasters?
A: A little bit of everything, better opening knowledge, in-depth calculation, fighting spirit. It is a small difference when we talk about general chess knowledge, but over the board, those small differences are very well spotted.
Q: And what about the very best of the best? The 2700 players? Have you ever had an opportunity to meet one over the board (or over the Internet)? What were your impressions?
A: I played against Richard Rapport in Zalakaros 2017. After the game, I got an impression that he is so well prepared, he has an amazing feeling for the position, knowing exactly where to search for the advantage and last but not least, his calculations were incredible when we were talking after the game. That's when I realized what does it take to be a 2700+ player.
Q: I have recently read an interview with the new European Champion, Ivan Šarić, in which he stated he worked with foreign trainers (such as Alexander Delchev). He also said being unable to do so more often due to money issues hindered his growth to 2700 levels. Have you ever worked with an established foreign trainer? Do you think it is necessary to reach the GM, or 2600+, levels?
A: I've never worked with any foreign trainers, but I know some people who did and still work with them. I wouldn't say it is quite necessary, but since some top guys work with them, they probably have a good reason to do so.
CHESS PLAYERS
Q: Apart from being a chess player, are you also a chess fan? Do you follow chess events as a spectator?
A: As much as I can.
Q: Did you follow the recently concluded Candidates Tournament 2018?
A: Of course.
Q: What do you think of Caruana's chances in the upcoming match in November? Do you think he is able to dethrone Magnus?
A: Fabi is an incredible player, probably top 3 in the world at the moment. Somehow I don't feel like he has a chance against Magnus, but neither did Karjakin in 2016. and we know what almost happened.
Q: Do you have a favourite player? A chess role model?
A: Levon Aronian.
Q: Who do you consider to be the greatest player ever? Where are you standing in the "eternal" Kasparov vs Fischer debate?
A: They were both the greatest when they played, and it's just a shame that we couldn't witness a match between those guys.
Q: Do you ever read chess books? Do you have a favourite chess book?
A: Unfortunately, I'm not really into chess books.
Q: And what about chess history? Russian trainers and players often emphasize the importance of studying the classics. Magnus Carlsen is no exception; I have heard stories of him being able to see a random position and immediately name the players, year and the venue. I don't expect, of course, you have such a memory, but have you studied the classics? Do you know which game someone is referencing when he says Botvinnik's Ba3!, Tal's Nf4! or Kasparov's octopus knight?
A: Ironically, my memory is really bad when it comes to important things.
Q: Do you have a favourite historical game? Which one is it?
A: Fischer-Spassky game 6. I have seen it in the movie Pawn Sacrifice haha.
CROATIAN CHESS
Q: In the previous interview with Leon Livaić, I have asked him for his opinion regarding chess in Croatia. I would like to do the same once again. How would you rate the state of chess in our country?
A: Chess in Croatia is not really popular, but since Ivan Šarić just won the European Championship, maybe it'll help to promote chess in our country.
Q: Do you feel like the Croatian Chess Federation is not doing enough for the development of chess?
A: Well, since there was a lot of drama involving Croatian Chess Federation, I'm not sure how much chances were there to try to develop chess last few years.
Q: I often hear complaints that the frequency and the strength of the tournaments in Croatia are below par. For instance, in the Open tournaments, it is hard to make a norm and there aren't any closed Bergers as far as I know. Is it a bit frustrating when you know you have to go abroad to have a more realistic shot at an IM/GM norm?
A: It's not really frustrating since there are 4 Open tournaments in Croatia (Pula, Split, Zagreb, Zadar) that are also qualifications for the Croatian Championship so it's not all that bad.
Q: Do you get some monetary support from the federation (not from your club or on the local level). Do you think it is enough? Do you think the federation should invest more in promising youngsters like yourself?
A: Croatian Olympic Association gives me some funds. And the Federation allows me to participate in strong tournaments such as Mitropa Open, so I can't really complain.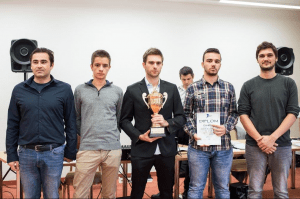 Sven as a member of the Golden Croatian Team in Mitropa Cup 2017. From left to right: GM Zoran Jovanović, IM Jadranko Plenča, GM Davorin Kuljašević, IM Sven Tica, FM Jurica Srbiš
Q: It is very much clear that strong youngster such as yourself, Livaić, or Jadranko Plenča (top rated Croatian junior at the moment)are isolated cases rather than the product of the system – there is a really big rating (and strength) gap between you guys and an average cadet or junior player. Do you agree with the assessment that it is all about the individuals, not about the system?
A: In Croatia, it is for sure all about the individuals since there is no real system here.
Q: I have heard stories in the past about strong Croatian International masters raising entire generations of strong players. Today, apart from things happening in Rijeka, I don't know of any extraordinary strong players working with the masses on a regular basis. What do you think the Federation could do to improve the system?
A: There was a rumour going around the country a few years ago that Croatian Chess Federation will organize training camps for younger players which is a great idea, but nothing has been done since.
Q: What do you think of the "Chess in schools" initiative? Do you think something like that might help to deal with the problem?
A: It will increase a chance to find more talents at the young age so they can start their development as early as possible.
Q: Do you intend to become a part of the solution one day? Do you have any interest in chess coaching whatsoever? Have you already done some coaching over the Internet?
A: I don't really see myself as a coach because I don't really know how to pass my knowledge to my students so it would be pretty useless for them to have me as coach.
OFF THE BOARD
Q: Okay, in the last part of the interview, I would like to break away from Sven Tica, the chess player and get to know Sven Tica, the person, a bit? How would you reply to the question: Who is Sven Tica?
A: Sven Tica is an 18-year-old who wants to be a good person with good manners and always be supportive when his friends need him.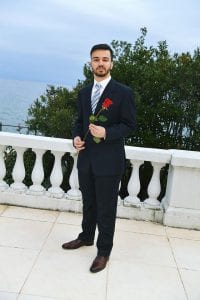 Q: What do you do in your free time? Do you have any hobbies except chess?
A: I'm a sports fanatic. I follow a lot of sports but I play mostly tennis.
Q: I know that many members of younger generations don't develop reading habits. What about you? Do you like to read? Which book can be found on your bed table as we speak?
A: Then I'm one of them since I don't really read books and ironically, only books I can see at the moment are chess books that I work with.
Q: What about movies and TV shows? Can you tell us your favourite TV show and top three movies of all time?
A: Dr. House is by far my favourite TV show, altho while shows like NCIS, Criminal Minds, Two and a half men etc. are also up on my list. However, I don't watch many movies but Lord of the Rings trilogy should cover it up haha.
Q: How do you balance out your education and chess career? Do you ever get tired of constant travels and chess tournaments?
A: Not really because you get to see many new places, meet new cultures and many people from different countries.
Q: And what about friendships? Leon said most of his friends come from the chess world? What about you? Is it possible to maintain strong friendships when you are "on the road" most of the time? How do you do it?
A: Most of my friends do come from the chess world too, but I've got some good friends outside of chess world. It's always possible to maintain strong friendships since good friends are with you no matter what and the fact that I'm away for a week or 2 doesn't mean that I'm not contacting my friends when I have free time.
Q: How do you select your friends in the first place? Which character traits are important to you in a person?
A: There is no such thing as selecting friends, it's just if you're good friends with someone or just a friend, but since you asked, some characteristics like loyalty, respect, trust are first that come on my mind.
Q: And what about girls? You didn't really think you would get away with this "tricky" question :D? Do you have a girlfriend? Someone you fancy? A crush?
A: I don't have a girlfriend or a crush.
Q: How do you spend your time in the tournaments? Is it all about chess and preparation, or do you take some time off to just have fun? I have heard these Junior Championships are sometimes approached very… light heartedly. Do you like to drink and just relax and have fun even when you know you have an important game the next day?
A: Well, it depends on the player's ambitions. If he wants to make a good result, there is a less likely possibility that he'll approach the tournament, as you said, light-heartedly. It may not be the biggest factor for making a good result but it certainly helps if you're mainly focused on the tournament.
Q: According to the general perception, chess players are considered a bit "weird", to say the least. After 7 years in chess, I can't blame them as there really are some… "peculiar"… characters out there. Does this perception ever bother you? Do you think it is accurate to an extent? Do chess players have some typical shortcomings? 
A:I have to agree with you that some chess players are weird, but I feel like that it's more of a stereotype than an actual fact since I've got a chance to meet many chess players and there are normal people just like everybody else, but as you said, there are always some "peculiar" characters, however not only in chess but everywhere else.
Q: Would you describe yourself as an extrovert or an introvert?
A: I'd say I'm more of an introvert.
Q: At the very end, can you tell us your favourite chess anecdote? What are the weirdest/funniest things you have ever experienced or seen in the playing hall?
A: I don't really have a favourite chess anecdote but there was a funny moment I witnessed. We were playing last round at 9 am and the player next to me fall asleep during the game! Arbiter tried to wake him up lightly and it didn't work so I asked her if I can do the honour and shake him after which he's woken up, and managed to draw the game!
Q: Okay, thank you very much, Sven, for your time and your answers. We wish you good luck and all the best in the future!